News and Updates
Age of Conan 9th Anniversary Celebration - May 2017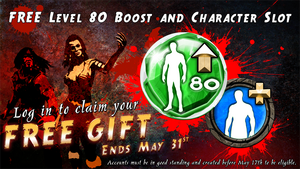 Age of Conan turns 9 this year! We can't thank you all enough for your loyalty and support over the years. Please join us in celebration as we approach a whole decade of Hyborian Adventures!
We've giving away a FREE Level 80 character boost plus a FREE extra character slot to any account, in good standing, that existed between launch and the start of the event!
Simply log in between today and the end of May to claim your reward. Don't miss out: If you don't log in by the end of May 2017 and claim your free gift, it's gone forever!
The Seventh Portent - Turan is Invaded! - June 2014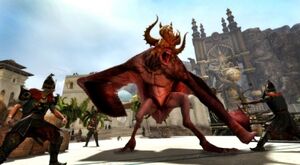 The Twelve Portents event continues in June with an all new world boss in the Coast of Ardashir. The Brutal Spawn of Nergal is on the rampage. Join together, defeat this terrible monster and earn epic rewards!
If you take part in all of the world boss events this year, you will earn a Legendary reward at the end. The event lasts from Wednesday 4th June until Tuesday the 10th of June.
Game Director Letter - May 2014
6th Anniversary
Massive PvP Update - 4.2 and the upcoming 4.3 content patches.
Fresh Reward System - 4.3 'PvP Streak' system
Earn Raid Gear - T5 and revamp of old Raid Dungeons.
Game Director Letter – April 2014
Patch 4.2 & Anniversary
Questions and Answers - Unchained Minigames, The Great Hyborian Race, Dragon's Spine Minigame Map & Palace of Cetriss, New Alternate Advancement Abilities and Loot Progression in Tier 5 raids.
AoC Wiki always needs new content! If you wish to help out, here are some things you can do:
Not sure how to edit?

If you're not sure on how to edit a wiki, check out our the Help pages for basics on editing and contributing.

English isn't your primary language?

Then see the other languages available.