Blessed Caves
Level 30


---

Region
Stygia
Zone
Khopshef Province
Boss Count
2
End Boss

Blood Defiler Guardian

Player Limit
1

The Blessed Caves are a Destiny Quest Dungeon in Khopshef Province which contain the Phoenix of the South, guarded by Black Ring cultists and ancient Acheronian demons. The dungeon can be reached by scaling the rock located at (717,981) provided the player has a climbing skill of 100 or greater.
Quests
[
]
NPCs
[
]
Walkthrough
[
]
On entering the Blessed Caves, you will encounter an Escaped Villager. Talk to him to learn of the 'Crimson Demon' (Blood Defiler Guardian) who inhabits the caves. To defeat the Demon, you must collect 3 Lotus Samples. The Samples are located at the end of passageways guarded by Black Ring Cultists and Slaves.
There are three primary passages, heading south, west, and north, that branch off the large room near the entrance. The Samples are located in side passages off these main passages. Clear each passage of mobs to get to the Samples.
After you have collected all three Lotus Samples, proceed up the north passage into the top chamber, wherein you'll find the altar. Upon entering the chamber, you'll be attacked by a Black Ring Arch Mage boss. The Mage is not difficult to defeat as he doesn't hit hard, but he summons minion snakes throughout the fight. The Mage drops several superior-quality potions and one rare-quality potion. Click on the altar the place the Lotus Samples and you will see a cinematic of the Blood Defiler Guardian below.
Proceed back down to the south passage, clearing any remaining mobs. When you enter the final chamber you will see the Phoenix of the South on your left protected by a magical barrier. You must defeat the Blood Defiler Guardian to remove the barrier. The Blood Defiler Guardian is a moderately difficult fight. Periodically during the fight he will knock you down and run back to his pool to cast a channeled heal over time on himself (which heals 10% of his health per second). To stop his healing you must click on the Stygian Totem behind his blood pool. This is a long fight so use health/mana/stamina pots during the fight to survive. The Blood Defiler Guardian will also drop a rare-quality potion.
After defeating the Blood Defiler Guardian, retrieve the Phoenix of the South from the dais then exit the Caves by jumping into the pool of water and swimming NE. You will exit into Khopshef Province.
Loot Table
[
]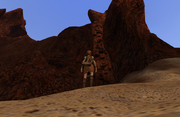 Boss
Weapons & Shields
Cloth Armor
Light Armor
Medium Armor
Heavy Armor
Items

Black Ring Arch Mage

[Black Ring Spelldagger]




[Deft Medium Crossbow]

Blood Defiler Guardian

[Bloodspite]

[Scything Bronze-studded Wristbands]
Dungeon Denizens
[
]
Black Ring Cultist

(30)

Black Scorpion

(30)
Slave of Acheron (30)

Cannibalistic Acheronian Slave

(30)

Summoned Slitherer

(30)

Black Ring Arch Mage

(30) [BOSS]

Blood Defiler Guardian

(30) [BOSS]
External Links
[
]