"The year of the dragon had birth in war and pestilence and unrest. The black plague stalked the streets of Belverus, striking down the merchant in his stall, the serf in his kennel, the knight at his banquet board. Before it the arts of the leeches were helpless. Men said it had been sent from hell as punishment for the sins of pride and lust." – Robert E Howard, Hour of the Dragon
The Border Range is a Dungeon in the Southern region of Wild Lands of Zelata.
From AgeofConan.com: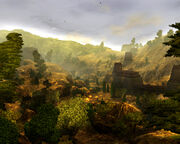 Long have the Nemedians sought to gain a foothold in the rich lands of their western neighbor and even in the aftermath of their greatest defeat they search for a way.
Nemedian scholars experiment frantically to try and recreate the black plague that stalked Belverus during the Hour of the Dragon, while scouts scour Acheronian ruins, seeking forgotten scrolls and tomes of power.
Slowly but surely, the Nemedians prepare their gambit.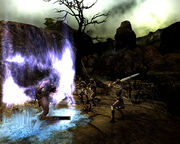 Now the tread of a thousand sandaled feet echo through the narrow ravines and pathways of the Border Ranges. Nemedian troops patrol the hidden ways that run between the hills, occupying the wooden forts and towers built by Aquilonian troops tasked with watching this small pass. Of the Aquilonian soldiers stationed to watch this relatively unknown way between the lands, there is no sign.
In the shadow of the border, the Nemedian army gathers, their numbers swelling as the days pass. Assurances have arrived from Tarantia, from an unknown source that assures the Nemedians that King Conan's attention will be otherwise occupied.
General Zarathus, renowned for his ruthless efficiency, has tasked his commanders, Anius and Decima with securing the town of Corvo. The sorcerers beneath their command have slipped away to the Acheronian ruins in the hills, dragging the terrified inhabitants of Corvo along behind them.
The scarlet dragon rides lazily in the wind above Aquilonian soil, once again.
Loot Table
Edit
Dungeon Denizens
Edit
External Links
Edit
Community content is available under
CC-BY-SA
unless otherwise noted.