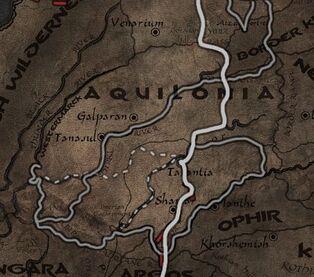 Quests: AquiloniaEdit
Aquilonia is nestled east of the savage Pictish Wilderness, west of militant Nemedia, north of cutthroat Zingara, and south of the Cimmerian tundra.
* Note: This list does not include all of the quests added since the Rise of the Godslayer expansion was added.
Armsman TavernEdit
Attilius' MansionEdit
Border RangeEdit
Castle of King ConanEdit
Crow's NestEdit
Imirian RavineEdit
Old TarantiaEdit
Outflow TunnelsEdit
Sanctum of the Burning SoulsEdit
Slaughterhouse CellarEdit
Tarantia Common DistrictEdit
Tarantia Noble DistrictEdit
The CatacombsEdit
The CisternEdit
The Iron TowerEdit
The Main SystemEdit
The Old Smugglers RouteEdit
Thunder RiverEdit
Villa AmielEdit
Villa CamillusEdit
Villa Camillus (Cursed)Edit
Villa LentulusEdit
Villa PaetusEdit
Villa VerdeEdit
Wild Lands of ZelataEdit
___________
HOW TO CONTRIBUTE TO QUEST UPDATES
Edit
Feel free to add what information you can about the quests (A few quests are already filled out as examples of the layout - we'll try to keep it uniform across the board).
If you can't or don't want to do the quest updates yourself, just screenshot your quest journal (prefereably before and after each quest ding / quest update) and send the pics through and we'll do the heavy lifting for you! Send them to conanquests@gmail.com
Community content is available under
CC-BY-SA
unless otherwise noted.