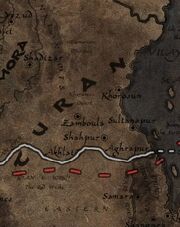 Gleaming mailed and silken-clad riders, masters of the Vilayet Sea,
Turan
revels in sweeping the barely contested wastelands to the west and south. Turan, however, must bear the plague of a thousand frustrations arising from the seemingly indomitable and ever resurgent Kossaks, Zuagirs, and Vilayet pirates. Perpetually battling raiders and quelling revolts from a hundred pinpricking sources, the rulers of Turan pass their reign in unceasing watchfulness. Turan is a natural enemy to
Iranistan
and
Vendhya
, but stands in loose alliance with
Hyrkania
. The 
Coast of Ardashir
is currently the only zone available in Turan.